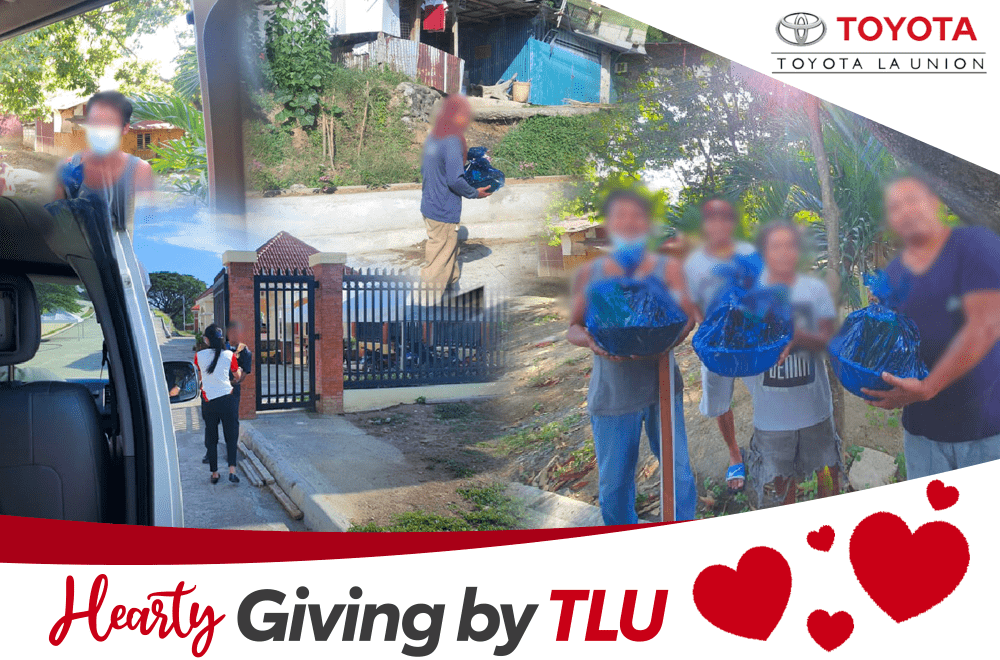 Toyota La Union: Hearty Giving : Off to make a difference!
In celebration of Valentine's Day, last February 25, 2021, Toyota La Union's Marketing Team went to Forest Lake, Bauang, La Union to conduct an activity. Upon arriving at the location, the gentlemen on the photo instantly caught the attention of the team. TLU Marketing Team then decided to donate relief goods to the gentlemen as part of the company's Corporate Social Responsibility Activities.

We, at Toyota La Union, hope that these relief goods have made the gentlemen's life a bit lovely! #TLUnganganLabanCOVID19
200 Guapple Seedlings Donated by Toyota La Union for One Planet, One Nation: A Corporate Social Responsibility Activity
Toyota La Union, as part of its Corporate Social Responsibility Activities, donated a total of 200 guapple seedlings to the Sangguniang Kabataan of The Municipality of Bauang last August 31, 2021.

We, at Toyota La Union, aims to move forward along with the environment, for a better tomorrow. Because every seedling planted is a seed of hope for the coming generations to come.
Rise and Sweep: Toyota La Union celebrates World Environment Day
On June 5, 2021, Toyota La Union celebrated World Environment Day and became one with the planet by conducting a Clean-Up Drive along the streets of Disso-or Bauang as part of Corporate Social Responsibility Activities.

The team members embraced the warm touch of the sunrise while picking up trash and sweeping the streets. Moving closer to the end of the clean-up drive, the TLU team members were greeted by the Disso-or street aunties who were just starting off their day to clean-up as well! It became a brief but memorable and fun moment shared between the two teams who became one for the environment!